Coventry Cobras VS Coventry Spitfires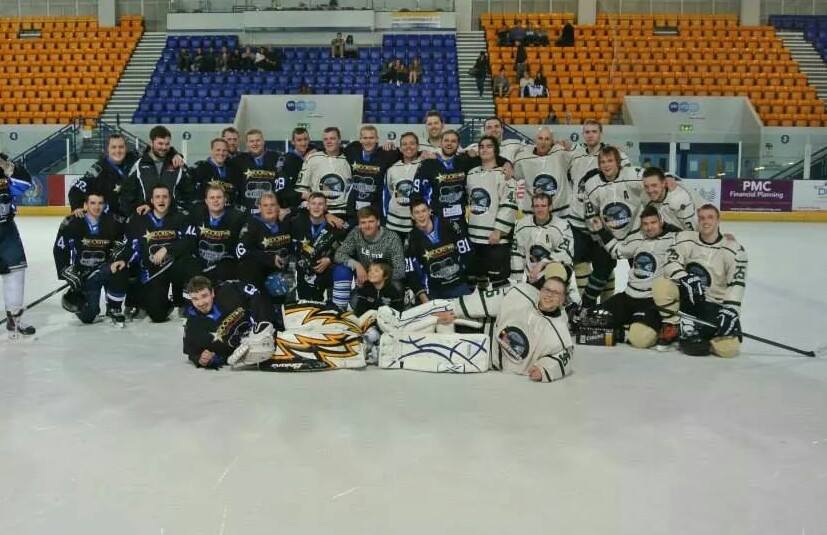 On the 21st of June 2014 Your Coventry Cobras went head to head with a
new local team. Even more local than most teams. This was to be a all
Coventry game, played by two Coventry Teams but hosted by the Cobras.
The newly formed Coventry Spitfires were to be joining us in a
"first meet" battle at the SkyDome Arena Coventry. Foundered by a few
guys who used to play for the Cobras we knew this game could go one way
or the other, Victory or disaster. Knowing a lot of the other team we
knew it would be a great laugh either way.

The game faced off at 20:45 and started fast and sharp in the same way
that most of our games start, scoring in the first 1 minute and 20 seconds with a goal from #81 Sam Prosser and assisted by #4 Sean Doherty and
Captain #90 Sam Laurence. At the time everyone was already having a
great time playing the game like a scrimmage in training considering
we knew all of our opposition. What we didn't know was that there was a
storm brewing and it was being generated by the new Spitfires who were
not there for a scrimmage. Ex Cobras #8 Steven Smith Punished our lack
of concentration with an early reply at 3 minutes 23 seconds and shortly after twice by partner in crime and ex Cobra #29 Josh Dickson. In the
14th Minute Spitfires defender #23 Matt Phillips slapped a rocket from
the blue line and scored making it Spitfires 4 - 1 Cobras.

Down in the 1st period break tunnel to have a team talk Captain
#90 Sam Laurence decided to let us know what he thought of the way we
were playing. As frightened as we all were we knew he was right and
something had to change for the next two periods. We walked out onto
the ice with a clear vision on the way that we needed to play this game. #19 Simon Lennox started in the same way as Prosser had started before
scoring an early goal but this time with Prosser to thank for the assist. No more than 2 minutes after restart #81 Sam Prosser scored with
assistance from #19 Sy Lennox. You could see from everyone on the bench
that what the Captain had said really affected the way this game was
panning out. The equaliser came from #21 Kieran Gannon and assisted by
new Guy #11 Charlie Coles. 5 minutes after Kieran's goal
Manager/Player #16 Adam Matteri Scored to take the Cobras 1 goal up.
Just as the 2nd period came to an end #21 Gannon smashed another one
home with the help from #89 Jamie Forster and again from new guy
#11 Charlie Coles. We had come back from being 4 - 1 down to 6 - 1 up
in one period and we didn't plan on stopping there. As the Spitfires
thought that the 2nd period break was coming up and the beating could
stop for a short while #11 Charlie came in assisted by #16 Adam Matteri
to score his first ever competitive goal with less than one minute left
on the second period clock.
Cobras 7 - 4 Spitfires.

The third started and the Cobras had some breathing space to pace the
game how they wanted. A 48 minute goal came from the Spits, another
Matty Phillips "D man" Goal. This was their last attempt at victory
because #19 Sy Lennox and #89 Jamie Forster came along to put two more
very long nails in the coffin as it were. The game finished with a
healthy 9 - 4 Cobras win.

It was great playing Against some of our old mates but business is
business and the lads did exactly what was required..... in the second
and third periods anyway. We are sure this isn't the last we have heard
from the Coventry Spitfires and we wish them the best with the new team.

For more Cobras Fixtures Click back and for any other information or a
chat then check out our Facebook and get in contact. There is also a
contact us form where you can contact the management for any queries.
As always we appreciate the support for all the players on the ice and
thanks to everyone helping on the clocks and benches.